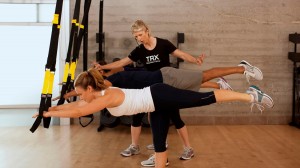 Although widely used for training in the US military, many are unaware that a workout alternative exists that is quite different from your standard resistance bands and dumbbells.
While deceptively similar in appearance to resistance bands upon first glace, the way you use the TRX Suspension system couldn't be more different. As the name implies it uses your body weight to achieve an optimal workout.
A plethora of totally new exercises await the adventurous and seeker of rigorous training. For those wishing to break the monotony of doing the same exercises with the same boring equipment, this can inject new life into your workout routine.
Be warned suspension training isn't for the weak of heart or body. If the thought of doing chin ups makes you feel a bit insecure, this may not be the solution for you quite yet.
It's simple, lightweight, and very portable. The TRX Suspension Home Training Kit includes two black and yellow adjustable nylon straps, door anchor, suspension anchor, storage bag, plus DVD and 35-page workout guide. The video production values are hardly at the level of say P90X, but it will familiarize you with proper form. Thankfully the TRX site includes an impressively large library of exercises for when you outgrow the included instructional goodies.
One cool feature that makes this system quite unlike anything else is its practicality for outdoor use. The included suspension anchor allows you to secure the straps to any suitable metal bar or even tree branch you come across. This makes the TRX system a match made in heaven for travelers and outdoor types.
Materials and craftsmanship are very solid, however because of how the straps are engineered it's not as easy to replace, say the handles, as it should be. As the kit is hardly cheap, it hard to find a reason why the system isn't completely modular so any worn out components can be swiftly replaced.
The Verdict
Working out in new ways in new environments is the suspension training claim to fame. Perhaps due to the novelty this also means paying a premium. Perhaps the biggest weaknesses of the TRX kits are the less than stellar value. For the time being the TRX brand is still a good choice, as the competition isn't offering products that are as polished. If you want the best and don't mind dropping nearly $200, fire away on it.