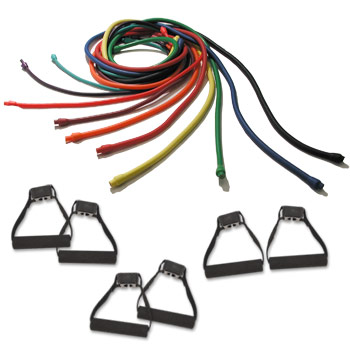 The people that brought us Focus T25 and P90X naturally direct you towards their own products in the videos. Do Beachbody resistance bands make the cut or are there better options out there for the price? Let's take a look, shall we?
B-LINES kits by Beachbody are available in four configurations:
Standard Kit: 3 bands ranging in resistance of 15 to 30 pounds (most popular with women)
Super Kit: 3 bands ranging in resistance of 20 to 40 pounds (most popular with men)
Extreme Kit: 3 bands ranging in resistance of 40 to 50 pounds (ideal for strong men, MMA and athletes)
Complete Kit: 10 bands ranging in resistance of 5 to 50 pounds (covers all bases, making it good for families and groups)
Rather than attempting to review each kit I've opted to look at the quality, performance, etc. of B-LINES in general.
The Standard, Super and Extreme kits are extremely stripped down with only three bands included. None of these sell very well on Amazon.com and the reason appears to be value. Black Mountain and Bodylastics offer five bands in their standard kits, plus extras like a door anchor and ankles straps.
If B-LINES offered bands superior in quality the price gap wouldn't matter. However the bands aren't noticeably better than the other major players.
One key difference is that B-LINES skews towards heavier resistance than the competitor's standard kits. It's almost like they've eliminated the two lightest bands included in other five band kits to make their three band kits.
Another quirk of their popular kits is that there are three bands but two handles. While most resistance band kits offer less detachable handles than bands it's an odd ratio as one band is left without handles at any given time.
The Verdict
B-LINES resistance band kits offer less bands and accessories than the competition but at a higher price. Beachbody is no doubt hoping that brand recognition will pull them through but it seems consumers have caught on and opted for the better alternatives.
Unless you insist on getting all your Focus T25 or P90X gear direct from the Beachbody store, you should do the same.