The Power of Pull-Ups
Those of us in less than perfect shape with aspirations of getting a toned, more attractive physique face a dilemma.
Pull-ups, one of the most complete upper body exercises for reaching that goal can be challenging to execute correctly. Many contort the body to cheat their chin above the pull-up bar, essentially relying on momentum rather than muscle.
Doin' it Right
The first focus should be moving toward good technique, but without adequate upper body strength this isn't possible without help.
One can enlist a workout companion to be a spotter, or if working out solo there's a new, increasingly popular alternative: using pull-up assist bands.
To perform an assisted pull-up the band is tied around the pull-up bar, then a knee or foot is placed inside the bottom of the loop. The band supplies more and more resistance as the body reaches the lowest point of the pull-up, thus making it easier to go back up.

Choosing the Best Pull-Up Assist Bands
Sets include four or sometimes five bands offering varying levels of resistance, which are selected for workouts based on how far you've progressed.
Although resistance bands sold by WODFitters, POWER GUIDANCE and others look very similar, differences in the type of latex, coating, dimensions of the bands, and price, hence make it worthwhile to compare the best sellers.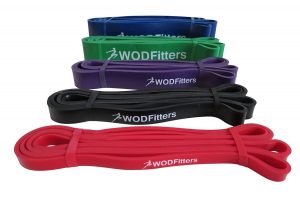 #1. WODFitters Pull-Up Assist Band Set
WODFitters offers durable, high-quality bands that are just like the kind you'll come across in many gyms.
These 41-inch long bands are sold in set of four or five, as well as individually. The four-piece set includes red (10-35 lbs.), black (30-60 lbs.), purple (40-80 lbs.), and green bands (50-125 lbs.). Set of five bands includes the super high-resistance blue band that is rated at 65 to 175 lbs. of resistance strength.
The bands have a slick coating and are made from rubber latex rather than more commonly used natural latex, which offers added strength.
WODFitters offers a 100% satisfaction guarantee, so if you aren't happy with the set you can return it within 60 days, no questions asked.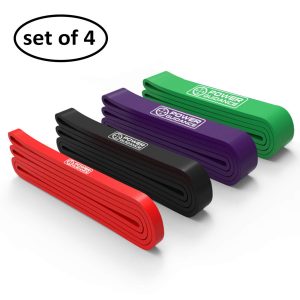 #2. POWER GUIDANCE Pull-Up Assist Band Set
These heavy-duty resistance bands by POWER GUIDANCE are available individually in five colors or as a set of four. The set aims at all fitness levels; included 41-inch bands are red (10-35 lbs.), black (25-65 lbs.), purple (35-85 lbs.), and green (50-125 lbs.).
It's been noted that the bands are thick, particularly strong, and hold up well to regular use. One small downside is that these have a strong rubber smell when brand new and the odor may transfer to your hands.
Satisfaction is guaranteed and POWER GUIDANCE welcomes customers to contact them if they're experiencing issues with their products. They're reportedly quick to replace partially torn or snapped bands.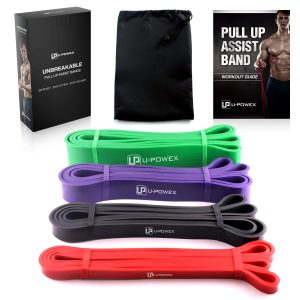 #3. UPOWEX Pull-Up Assist Band Set
Build strength and improve mobility with these affordable yet durable bands made from natural latex.
Set includes four pull-up assist bands: red (10-35 lbs.), black (25-65 lbs.), purple (35-85 lbs.), and green (50-125 lbs.). Furthermore a travel carry bag and workout guide is thrown in, though the bag is undersized and on the flimsy side.
These close-loop, 81.9-inch extra-long bands are ideal for comfortably fitting your feet inside the loop of the band while doing pull-ups.
Check out the selection of pull-up assist bands at your local sporting goods store and you may come across single bands selling for as much as this entire set sell for online!
UPOWEX stands behind the quality of their product by giving customers a lifetime guarantee, which is an impressive perk at this price point.
WODFitters

POWER GUIDANCE

UPOWEX

Editor's score
4.25/5
3.75/5
3.5/5
Amazon.com reviews
2,000+ reviews
400+ reviews
200+ reviews
Bands included
4
4
4
Band specs
Red (10-35 lbs.)
Black (30-60 lbs.)
Purple (40-80 lbs.)


Green (50-125 lbs.)

Red (10-35 lbs.)
Black (25-65 lbs.)
Purple (35-85 lbs.)


Green (50-125 lbs.)

Red (10-35 lbs.)
Black (25-65 lbs.)
Purple (35-85 lbs.)


Green (50-125 lbs.)

Length and width
Red (41" x 0.5")
Black (41" x 0.75")
Purple (41" x 1.25")
Green (41" x 1.75")
Red (41" x 0.5")
Black (41" x 0.9")
Purple (41" x 1.3")
Green (41" x 1.8")
Red (81.9" x 0.5")
Black (81.9" x 0.9")
Purple (81.9" x 1.3")
Green (81.9" x 1.7")
Band material
Rubber latex
Natural latex
Natural latex
Extras
None
Storage bag, user manual
Travel bag, workout guide
Warranty
100% satisfaction guaranteed (for 60 days)
Satisfaction guaranteed
Lifetime warranty
View on Amazon.com
View on Amazon.com
View on Amazon.com