Just like there's no perfect workout routine for everyone, choosing the right resistance bands for P90X depends on how far you want to go with the program.
The most important criteria to consider are:
Your level of fitness: Bodylastics and Beachbody B-LINES resistance band sets are geared towards two main groups. First, people of average strength looking to stay in shape. Second is the enthusiasts: aspiring athletes, MMA practitioners, and bodybuilders.
Brands: Quality, value, and selection vary greatly depending on the brand.
Budget: Pricier sets include more high-tension bands. Generally, if you spend more, you'll have room to grow when you decide to move up to a more intense workout.
Picking Your Resistance Band Set
Trainer Tony Horton wants you to buy from his own brand, Beachbody. However, there are plenty of solid alternatives to consider.
In my review of B-LINES I concluded that other companies are offering bands of comparable quality for less money. B-LINES bands have no killer feature that makes them stand out among the pack.
My main comparison of the three top-selling brands ended with Bodylastics coming out on top. Read the full reviews here. They offer a great variety of sets, so you can choose one you'll never grow out of. They're also a good value. Bodylastics sets are priced fairly considering the high quality of the bands and components.
I also liked the basic set by Black Mountain Products. However, this company does not currently offer comprehensive sets comparable to say Max Tension, Strong Man and MMA Training by Bodylastics. Add-on accessories such as door anchors and ankle straps, plus single bands, are also more readily available when you go with Bodylastics.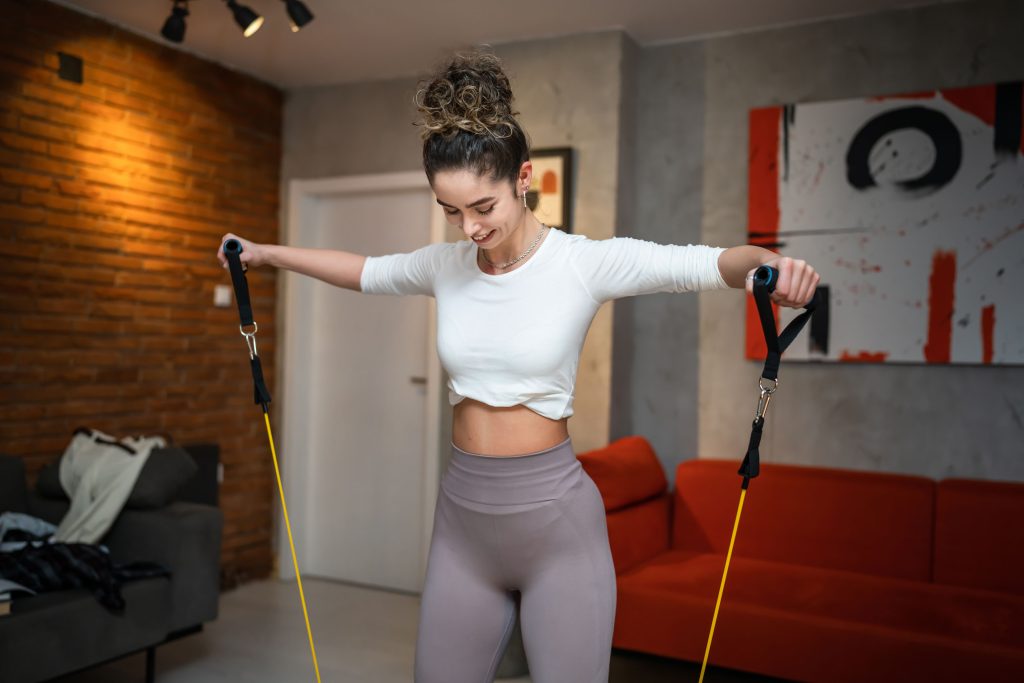 Which P90X Routines Require Equipment?
While many of the exercises in P90X don't require any equipment, plenty of them do. Here's a list of routines that require resistance bands or dumbbells:
Chest and Back
Shoulders and Arms
Legs and Back
Core Synergistics
Chest, Shoulders, and Triceps
Back and Biceps
The Right Choice for P90X
One point to consider is P90X is an extreme workout system designed to get quick results. It's not a catch-all workout for everyone as it's sometimes portrayed online.
If you want to do it right, look at sets that move beyond the basic three or four bands. Although these sets are popular, they're geared toward people with very average fitness goals. Sets with more bands have the highest tension resistance bands included for intense workouts.
Tube resistance bands are a better choice than flat resistance bands for P90X. The reason for this is flat resistance bands are geared towards recovery exercises, yoga, and pilates. Tubes band sets give you the potential to reach for a high level of tension.
Conclusion
Bodylastics is the clear winner for P90X. And the B-LINES Extreme kit isn't a bad choice despite having only three bands in the set.
In this case, I'd stay away from basic sets as they don't offer many high-tension resistance bands. Enthusiasts looking to do more than an average workout are better served by comprehensive sets.