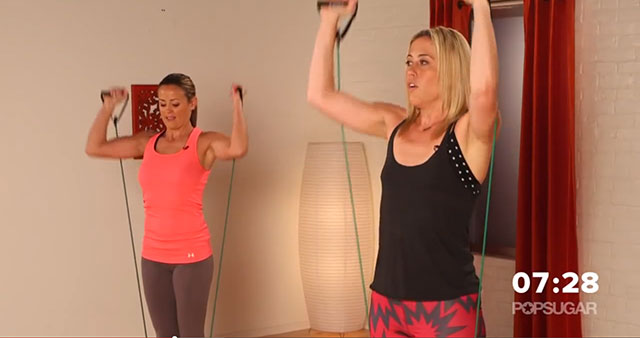 Before moving on to an advanced workout system like P90X, it's best to start with the basics.
Those print exercise foldouts that come with resistance bands may show you the basic idea behind an exercise but can't demonstrate the subtleties involved in doing it effectively. It helps to see experts use resistance bands in videos to get a feel for using proper form before it becomes second nature.
I've compiled a list of routines containing essential resistance band exercises for beginners. These are culled from great fitness channels you'll want to go back to on YouTube.
Moses of San Diego's down-to-earth, conversational approach is excellent for people just getting started with resistance bands. He demonstrates easy to pull off upper and lower body exercises. You'll be making heavy use of the door attachment with this one.
Zeus X, a dude with a terrific accent, and biceps, walks you through a workout you can do anywhere. He wraps his band around a highly mounted metal bar to do a portion of the routine so be sure to have something similar around. You won't be able to accurately replicate it with just the door attachment.
Celeb trainer Lacey Stone's 10-minute workout will get your heart pumping and tone your entire body. She's got an engaging personality making this a fun one to follow. Be sure to get out a yoga mat!
Max Wettstein shows you how to use some basic exercises in his half-pipe outdoors. This is a good one for inspiration if you want to utilize objects in your environment to wrap your band around.
This includes a great collection of bicep and tricep exercises. FitnessBlender has a much-appreciated no-nonsense approach. There is no cheesy background music and the voiceover commentary is very specific and insightful.
Instructor Jessica Smith has put together a unique routine that incorporates cardio and stretches to add some spice to your resistance band workout. You'll need plenty of space and a yoga mat. The pace is quick and some of the exercises are geared at an intermediate audience so work up to this.
This is simple, slower-paced workout without any annoying chatter. Each new exercise is identified with a slide and captioned tips are peppered throughout (as are irritating GymRa plugs unfortunately). A 10-15 pound band is recommended for women, and band with double the resistance for men.